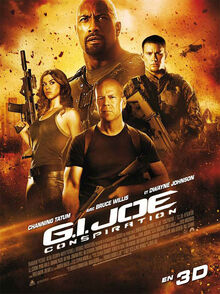 G.I. Joe: Conspiration is an upcoming military science fiction action film directed by D. J. Caruso, based on Hasbro's G.I. Joe toy, comic and media franchises. Written by Aaron Berg and Jonathan Lemkin, it is the fourth instalment in the G.I. Joe film series, and a sequel to 2013's G.I. Joe: Retaliation, as well as the .
Conspiration stars Channing Tatum, Byung-hun Lee, Ray Park, Jonathan Pryce, Marlon Wayans, Bruce Willis, and Joseph Gordon-Levitt reprising their roles.
The fourth film takes place after the events of Transformers vs. G.I. Joe as the Joes face Cobra in a final battle for Freedom and Piece.
Ad blocker interference detected!
Wikia is a free-to-use site that makes money from advertising. We have a modified experience for viewers using ad blockers

Wikia is not accessible if you've made further modifications. Remove the custom ad blocker rule(s) and the page will load as expected.